Virtual Magic Show + Dinner for Saturday, January 16, 2021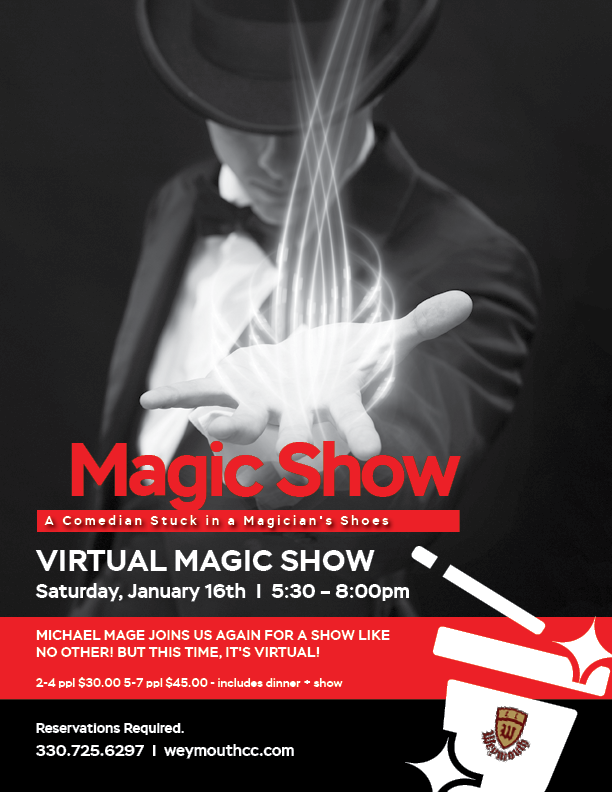 We are excited to bring you a new kind of dinner & show!
We are limiting this to the first 25 families that sign up!
Michael Mage has visited Weymouth for the past two years bringing his amazing magic tricks with him. Since we are unable to host him this year, he's decided to bring us a virtual show! It'll still be 100% interactive and you be definitely still be amazed! We are also including a family dinner pack with the show!
Come pick up your meal from the club and then enjoy the show at home. See our meal options below:
Family Virtual Magic Show Italian Family Style Pack
2-4ppl $30
5-7ppl $45
Choose one:
Baby greens, tomatoes, cucumbers, croutons, shaved parmesan, balsamic vinaigrette
Or
Chopped romaine, croutons, parmesan cheese, Caesar dressing
Choose one:
Baked Ziti with marinara, Italian sausage, onions and peppers
Or
Chicken & penne Alfredo with mushrooms and broccoli
Or
Pasta primavera with choice of Alfredo or marinara
Meals include:
Please RSVP on the ForeTess app or email Laura at laurashaw@weymouthcc.com